100G Dual fiber to single fiber Converter
Time:2022-08-03
Views:1130
With the increase of 100G data transmission with large bandwidth, optical fiber resources between data centers are becoming less and less. How to reuse existing optical fibers can save considerable costs for enterprises. HyOptic provides 100G dual-port to single-port converter for bidirectional transmission of 100G LR4/ER4 optical modules over one single fiber, enabling multiple 100G services using the existing dual core fiber.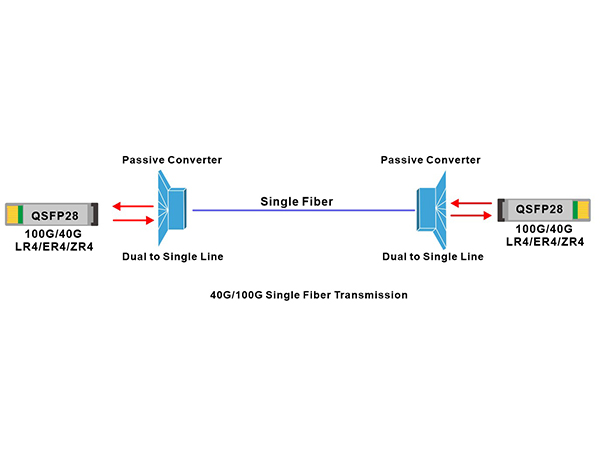 Product Panel

100G Dual fiber to single fiber Converter
Supports 40G/100G LR4, ER4, ZR4, dual fiber to single fiber
Operation wave 1310nm
TX/RX Port:LC Connector; Line Port SC/APC
Passive device, Low Insertion Loss
Specifications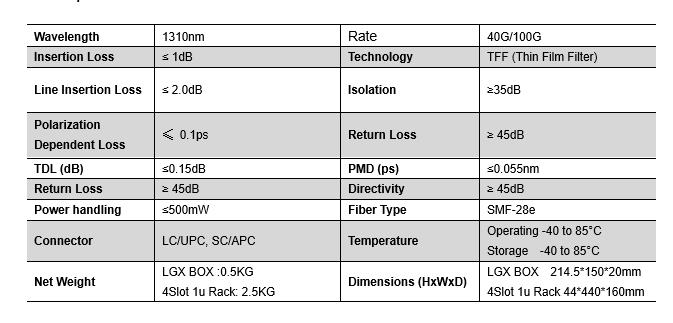 Package Information
Plug-in LGX Box 4-Slot 1U Rack for LGX BOX


Order Information
Product No.

Product description
100G-LGX04-D-S
100G LR ER ZR Dual fiber to Single fiber Converter,TX/RX port LC/UPC, Line Port SC/APC Plug-in LGX Module
1U02-4LGX
19" inch 1U rack with 4 slot for Plug-in LGX box, 440*160*44mm
Note: We Support Customized Design, please contact us by email.